ZGF Maggie MAG BAG – Bag Filter Insert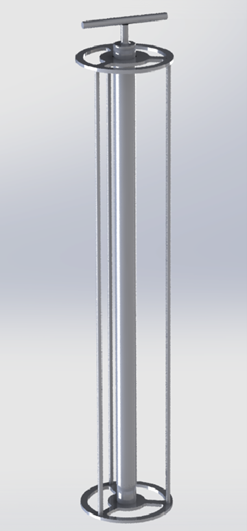 Some applications and processes don't require or are not condusive to automation.  Sometimes you just need a simple solution to remove magnetic fines from your process fluid.
The Maggie name is a symbol of performance and innovation.  When ZGF decided to develop the Maggie MAG BAG, we made sure it provided more value than similar products on the market.  The Maggie MAG BAG is an effective and maintenance friendly magnetic bag filter insert.  
All magnetic bag filter inserts are not the same!  Features of the the ZGF Maggie MAG BAG include the following:
designed to fit into a standard, size 2 bag filter housing.
utilizes real(1) rare earth magnets having a field strength of up to 13,500 Gauss
304 stainless steel construction
Maximum operating temperature of 175° F (High temperature units available upon request.)
handle for ease of pulling magnetc insert out of cage assembly and cleaning of magnet
built in scraper to remove fines
alignment post / cup for easy re-assembly
Zero Gravity Filters (ZGF) Rare Earth Magnets(1)
ZGF uses N45 Neodymium Iron Boron magnets purchased from a licensed and authorized manufacturer of rare earth magnets in every ZGF Maggie!
The magnetic field strength within every ZGF Maggie is up 13,500 gauss.  To put it into perspective, a ZGF rare earth magnet is more than 100x stronger than your most powerful refrigerator magnet, and up to 10x stronger than many industrial grade ceramic magnets.
 The magnetic field strength of real N45 rare earth magnets in conjunction with the patented Maggie design allow it to capture most particles 5 micron and larger, as well as sub-micron magnetic particles.
To learn more about the Mag Bag, click here for a detailed Mag Bag product data sheet.