Maggie
The ZGF Magnetic Separator ("Maggie"), is an innovative and patented technology. The fully automatic, in-line, high intensity, self-cleaning, patented magnetic separator is the best available technology for separating magnetic contaminants from process fluids. Maggie can remove particles down to 1 micron without damaging critical process fluids such as machining coolants, cleaning / degreasing solutions or polymer quench fluids.
Zero Gravity Filter's Maggie is an effective, efficient and environmentally responsible solution that can optimize life-cycle cost and minimize the environmental footprint of industrial operations where ferrous (magnetic) contaminants are present/introduced. 
Contact us today for additional information or call us at 248-486-3500 and we will assist you with your specific Maggie questions.
High-Intensity Magnetic Separator Optimizes Contaminant Capture
Media filters such as cartridge filters and roll media create a physical barrier which captures all particles larger than the micron opening. You don't want to remove everything! For example, you don't want to remove defoamer particles, surfactant micelles or emulsion droplets. You want to remove the contaminants, the ferrous fines and particles that deteriorate the process fluids, negatively impact quality and productivity, and drive up maintenance costs.
Take two minutes and watch the video below to better understand how the best-in-class Maggie Magnetic Separator technology works. After watching the video, we are sure you will be thinking of many processes and applications in your facility where ZGF magnetic separation technology could provide significant value.
Magnetic Separation Technology Design & Fabrication
Maggie's stainless-steel body houses our proprietary magnetic cores. The magnetic cores are thin walled, seamless stainless tubes that seal magnetic shuttle assemblies. Each magnetic core contains several magnet/pole combinations that generate a magnetic field greater than 10,000 Gauss at the surface of the tube. The magnetic cores are assembled into different Maggie sizes/models to best accommodate the flow and loading characteristics of the application/process.
All of Maggie's wetted components (other than elastomers) are stainless steel. Maggie is compatible with a wide range of liquids and operating conditions up to 200oF and 100 psi. Maggie is available with four valve seat materials (Viton, Buna, EPDM and Teflon) and four O-ring materials (Viton, Buna, EPDM and ETP). Valve Seat and O-ring material selection is based upon compatibility with the process fluid.
The five Maggie models are designed to handle flow rates from 1 gpm to 250 gpm. Multiple Maggie's can be assembled in a manifold arrangement to meet any flow requirement.
Click on the desired Maggie model MG100, MG300, MG600, MG1200, MG2600 for a detailed product specification sheet. For a comprehensive overview of ZGF Maggie technology, click on the Maggie Product Data Sheet.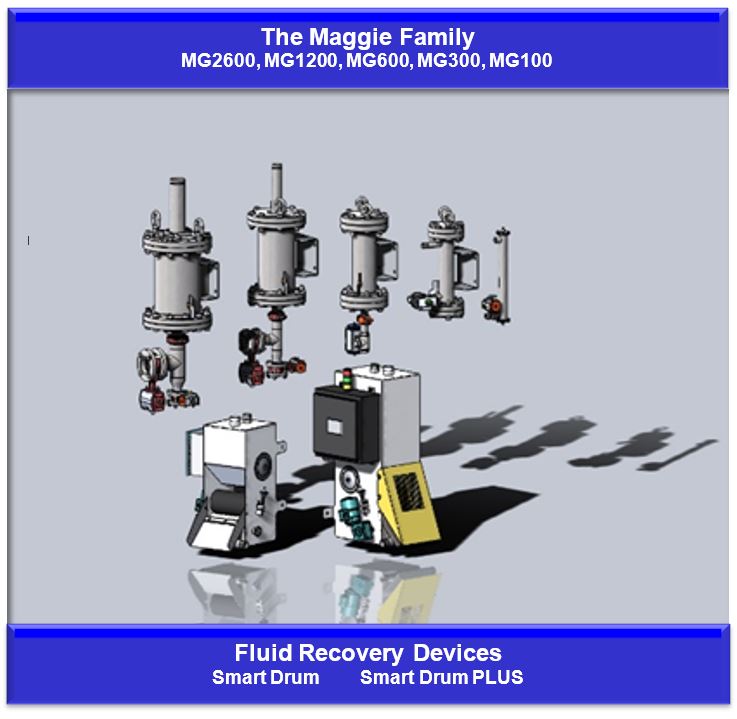 MAGGIE FAMILY OVERVIEW

Model
Product
Flow Rate (gpm)
Inlet / Outlet / Purge
Water-based
Oil

MG100

Maggie 1-core

12

8

0.75"/ 0.75"/ 0.75"

MG300

Maggie 3-core

35

25

1"/ 1"/ 1"

MG600

Maggie 6-core

70

50

1.25"/ 1.25"/ 1.25"

MG1200

Maggie 12-core

125

85

2"/ 2"/ 1.5"

MG2600

Maggie 26-core

250

175

3"/ 3"/ 1.5"

Manifold Arrangement

MG1200 or MG2600

unlimited

unlimited

user determined

Smart Drum

Fluid Recovery

Batch Process

1.5"/ 1.5" (2" vent)

Smart Drum PLUS

Fluid Recovery

Batch Process

1.5"/ 1.5" (2" vent)
EZ MAG automatic, liquid filtration system 
Some processes require both magnetic separation and a barrier filter. Your process stream may contain both magnetic and non-magnetic material, such as steel and aluminum.
Why purchase two separate systems?
The EZ MAG combines the capabilities of Maggie and EZ900 into a single system with one set of valves, one set of controls, and the footprint of a single system.
Reduce system complexity and floor space requirements and save money. The EZ MAG is the ideal solution in steel mills, tube mills and paint pre-treatment systems.
The EZ MAG is the only permanent media, in-line filter that combines magnetic and barrier filtration in a single system.
Refer to Maggie and EZ900 for additional information pertaining to these two products.
Magnetic Separation Technology Control Options
Three different types of Maggie controls provide an easy and convenient way to program Maggie to your exact specifications. All control system options feature automatic purge (i.e. self-cleaning cycle) based on time interval and manual override functionality. The Maggie Control options include:
| | |
| --- | --- |
| Analog Timer – for use with MG100, MG300 & MG600. ZGF's most basic control system. The analog timer has minute dial for setting the purge interval and second dial for setting the purge duration. The timer is also equipped with a push button for initiating a manual purge. The analog timer is mounted directly on the Maggie valve assembly. There is no control enclosure to mount. | |
| Proprietary, Solid-State, Printed Circuit Board (PCB) control system – for use with all stand-alone, individual models, and when an individual Maggie is used in conjunction with Smart Drum or Smart Drum PLUS. The PCB controls are housed in a NEMA 4, painted steel enclosure with a membrane keypad and LCD display that allows the user to configure timers and displays operational status. | |
| Logic Module (Siemens LOGO!) – for use with any single Maggie, multiple Maggie systems, when adding Maggie Watch, or when the operator requires greater range of control. The controls are housed in a NEMA 4, painted steel enclosure or a NEMA 4X stainless steel enclosure. A door mounted user-interface allows the user to configure timers and displays operational status. An LED stack light provides system status (i.e. power on, purge and fault / alarm). The LOGO! controls also provide some interface capability with other control systems. | |
Maggie Watch: Magnetic Separation Fault Monitoring System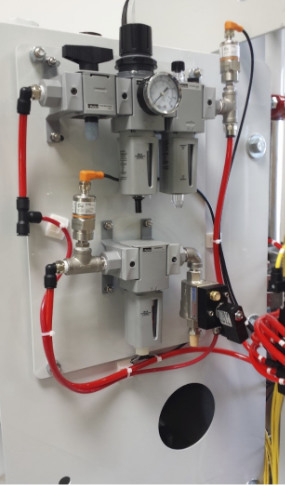 The Maggie Watch allows for continuous monitoring and immediate notification should one or more Maggie's experience a fault. The system provides capability for local and remote monitoring and alarm notification. Detection and early action will make the repairs much easier and prevent damage to Maggie components and downstream components.
Maggie Watch continuously monitors for all potential Maggie faults, including:
Low or loss of air pressure,
Magnetic Shuttle does not move,
Magnetic Shuttle Air Leak (Internal Air Leak Detection),
Tube Seal Leak (Internal Process Fluid Leak Detection),
Purge and/or discharge valve does not open or close.
Maggie is the Premier Magnetic Separation Technology for the Removal of Ferrous Contaminants and Particles
Maggie is the best technology for removing ferrous contaminants from process fluids. The Maggie Magnetic Separator also maintains the lowest 10-year lifecycle cost and is extremely environmentally friendly; Maggie's environmentally responsible design is the "green standard" and is highly respected throughout the industry.
Click on the link Success Stories to learn more about how our customers were able to realize value via implementation of ZGF Maggie technology. We've probably helped somebody that has the same challenges as you! The table below outlines the features and benefits of ZGF Maggie technology.
FEATURE
BENEFIT
High intensity magnets generating >10,000 gauss
Captures particles as small as 1 micron
Selective contaminant removal
Will not strip any components or ingredients from the process fluid
Consistant and reliable performance
Creates steady-state conditions reducing process variability resulting in improved quality and lower operating costs
Full 1-year warranty on Maggie assembly
Reduces operating and maintenance costs
Fully automatic, self-cleaning operation
Requires no regular manual intervention freeing up labor for other value-added plant services and reducing maintenance and operating costs
Pressure fed, zero by-pass design
Provides a three-dimensional magnetic field that increases particle capture efficiency and allows for particle removal down to 1 micron
In-line design
Eliminates need for additional pumps, motors and controls reducing maintenance and operating costs
Compact design
Saves valuable floor space
Low energy requirement
Reduces load on plant utilities and lowers operating costs. It uses less energy than a light bulb
Efficient and environmentally responsible design

It uses <0.50% of total volume for purge.

Creates no additional waste (i.e. no disposable media, no packaging for new media, etc.).

It uses less energy than a light bulb.
Secondary batch processing system (Smart Drum)

Allows for recovery of valuable process fluids and reduces waste
Permanent media, stainless steel body and cores

Does not require replacement, thereby reduces labor and disposal costs, and increases productivity
Minimal moving parts through simplicity of design
Increases reliability, thereby reducing maintenance and operating costs
ZGF's Maggie: A Superior and Versatile Magnetic Separator Serving Multiple Applications and Industries
Zero Gravity Filter's Maggie automatic, self-cleaning, in-line magnetic separators are primarily utilized in the Automotive, Heavy Truck, and Steel & Tube industries.
Whether you are a:
Paint Center Manager with weld ball contamination in your paint pre-treatment system
Manufacturing Engineer with honing, grinding or machining issues
Galvanizing Line Supervisor trying to improve strip cleanliness
Cold Mill Maintenance Planner dealing with issues due to dirty mill coolant
ERW Tube Mill Maintenance Manager trying to extend impeder life and improve mill productivity
Metallurgist wrestling with part quality and coil life issues due excessive scale in your induction hardener quench fluid
Quality Engineer that must improve process reliability and component cleanliness in several parts washers
Smart Drum Fluid Recovery Devices Save Valuable Fluid
The Maggie product family also includes the Smart Drum and Smart Drum PLUS (SD) fluid recovery devices. The purpose of the SD is to physically remove the magnetic fines from the Maggie purge fluid and return clean fluid back to the process.
When the Maggie and Smart Drum products are configured together as a system, ZGF can provide the best available & most environmentally responsible technology with the lowest 10-year lifecycle cost in the industry. The Maggie / Smart Drum animation effectively shows how these two innovative technologies work together.
Contact Zero Gravity Filters for the Maggie Magnetic Separator Today
Simplicity, consistency, reliability and the lowest life-cycle cost make Maggie the only choice when you need to remove magnetic contaminants from your process.
As your preferred partner, ZGF understands that filtration should not be a burden, rather a tool that improves quality and reduces cost. Let us help you meet your objectives and make your job easier! Please contact us for a free consultation or request a quote for an in-depth price analysis today.
We have additional information in our Documents section. You can download and access drawings, installation, operation & maintenance (IOM) manuals, as well as other technical and reference documents.
Maggie is simple, effective and reduces your total operating costs. Click on the Maggie animation link for a narrated animation that provides a basic explanation of Maggie technology.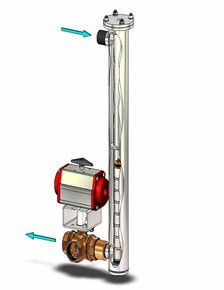 Maggie – Filter Mode
Dirty fluid enters in top
Magnetic shuttle assembly in lower position
Particles are trapped on the outside wall of tube
Clean fluid is discharged through the outlet port
Purge port closed, discharge port normally open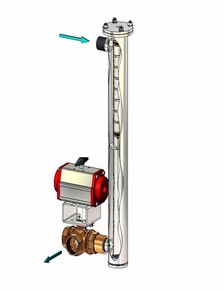 Maggie – Purge Mode
Dirty Fluid enters in top
The discharge port is closed, purge port is opened
Using compressed air, the magnets are shuttled to the upper position
The solids have nothing to cling to and are easily washed away through the purge port
The purge (automatic, self-cleaning) process is:
√ Quick: 4 to 6 seconds
√ Efficient: < 0.50% of the process volume
√ Effective: 100% clean with each purge
√ Simple: No mechanical scrapers or wipers. No media. Compressed moves the magnetic shuttles up and down